OTHER COURSES
i) Abacus
What is an ABACUS?
Abacus is also called a counting frame, is a calculating tool that was in use centuries before the adoption of the written modern numeral system and is still widely used by merchants, traders and clerks in Asia, Africa, and elsewhere. Abacus is a tool invented by the Salamis, then labeled by Mesopotamians, improved as a mathematical tool by Greek scholar Tetramachus, and used in China for more than 2000 years as a mathematical tool.
Abacus is being used in our curriculum for learning the basics of mental arithmetic, right and left brain development and to increase their co-ordination.
Happy Nest Abacus is a form of training which will enhance a child's ability to calculate without the aid of any instrument such as paper, pen, calculator or abacus, after initial abacus training. The child will be able to calculate with speed and accuracy using his/her own mental power.
We offer training for 5 to 15 year old children. Every program offered is well researched, unique and focuses on a particular set of skills and the complexity of learning becomes higher with the increasing levels.
The syllabus, which is equipped with a well experienced team based on extensive research in India, Malaysia & UK. Our training would have several positive benefits. Few are:
Better concentration
Listening skills
Better spontaneous effect
Better Memory
Sharper observation
More reading, writing and learning skills
Improved analytical skills
Better creativity
Improved application skills
Better comprehension and calculation skills
Self confidence
The program aims at total brain gymnasium and exercise for their mind power, by differentiating between regular school and classroom environment to training methodology. Creating interest to students by empowering them value adding more than abacus to get entire benefits of Abacus training.
It is a complete program and students from Std. 2 to 8 can take part in this program.
Beginners – Level 1- 2nd std – 4th std
Intermediates – Level 2 – 5th std – 7th std
Advanced – Level 3 – 8th std & above
60 hours* training program with a spread of 5month course.
2 hours per week of 12 classes each level
ii) Handwriting
"You can Impress Anyone, Anywhere, Any age & at Anytime with our Happy Nest Handwriting"
There is no good or bad handwriting rather it is legible or illegible handwriting.
Handwriting is a very important part of a child's growth because legible handwriting brings them more marks. Legible handwriting is always appreciated and thus students will also gain lots of confidence.
Happy Nest Handwriting emphasis on 5 P's Approach
Make them understand why handwriting is important
Holding positions, Finger exercise, Basics of writing etc.
Creating interest to practice consistently for the improvements
Once improved enabling them to write legibly.
After course training will be given for the permanent legible writing.
It is a complete program and students from Std. 2 to 8 can take part in this program.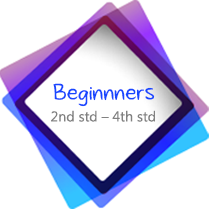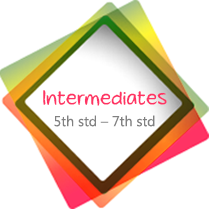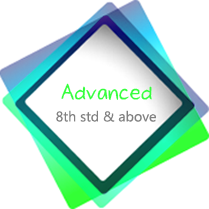 60 hours* training program with a spread of 5month course.
iii) Talk English – Communicative English Course
Eligibility: +2/Degree/Diploma
Course duration: 3 months
English language is in India for two hundred years. In spite of it, language teaching and learning have made a poor status. There has been an appreciable fall in the standard of English. A student passes out of the school with nine years and in some cases twelve years of English in his book, stammers and stumbles when it comes to effective communication using English.
Their grammar is shaky, pronunciation is sloppy and they fell challenged and threatened because they think, which is true, that their personal vocabulary, which includes phrases and idioms is inadequate for interacting with people belonging to different fields and to convey their requirements.
The students are not to blame, nor the teachers, faulted. The system and perhaps the syllabus and the source books have failed them. Good communication is more than a matter of grammar, structure and combination of words. The skills have not been adequately provisioned. They are given hypothetical, abstract sentences far removed from their real life and language world. We have given our children everything in language except the one thing they need most - Communicative Ability. It is high time we set the record right.
In this highly competitive and complex world, the difference between success and failure is often their ability to communicate clearly and effectively. If you have no communicative ability, whatever else you do will not visible to this world.
This Talk English course will guide and support in the natural way of life from thinking to talking which will overcome your fear. Helps you to improve you vocabulary, accent, pronunciation, listening skill, reading skill etc.
'We support you to Talk English Naturally' – Change the way the world looks at you…..
iv) Soft Skill Development Programme
Eligibility: +2/Degree/Diploma
Soft Skill development programme comprises of personality traits, social styles, communication, language, personal habits, interpersonal skills, managing people, leadership, etc.
A. Leadership Skills. Companies want employees who can supervise and direct other workers....
B. Teamwork....
C. Communication Skills....
D. Problem Solving Skills....
E. Work Ethic....
F. Flexibility/Adaptability....
G. Interpersonal Skills
Understand General Expectations from Corporate standpoint
Corporate attire
Introduction during the interview process
Mock Interviews
An overview to communication in the interview process
Communicate effectively with recruiters
Methodology
Practical Approach
Experiential Learning
Ample use of role plays
Share real life examples, share their experiences and also facilitate discussions to address Students' queries.
At the end of these Programs, students gain confidence to understand their quality and their lacunae. They get the zeal to work on their weak areas and with a firm conviction walks ahead to the road not trodden by anyone.
'Transform Yourself as a Leader' – Edge over this competitive and complex World…
Enroll Today to enable your child confident - Call @ 7200451515